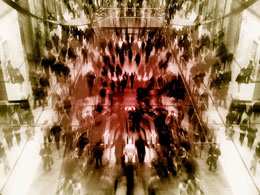 Facebook announced this week the launch of Facebook Deals for local business which ties in directly with their Facebook Places feature. Sounds remarkably similar to Foursquare but Facebook has a much, much larger user base. Will this blow Foursquare and other geo-location services out of the game?
This is yet another feature that local businesses need to be on top of and figure out how to use it to their advantage. Foursquare and Yelp already have proven track records of helping driving customers to businesses. Now, the biggest player of them all has stepped into the ring. Most business have heard or know that they really should have a presence on Facebook with a Business Fan Page.
How Facebook Places and Deals Help Local Business
Build loyal customers
Visibility- when someone checks in at your Facebook Place, it shows up on their profile and in the News Feed for all their friends to see.
In order for a business to be able to create a deal in Facebook, they will need to have claimed their Facebook Place first. Then you can create a Facebook deal, wait to get it approved by Facebook and then promote it.
Users can find Facebook Deals when they check in at different locations using Facebook Places for Android or the Facebook iPhone App. There are four kinds of deals currently available.
Individual Deals- Discounts, freebies and coupons  for individual users that check in
Friend Deals- You and other friends check in together to claim a deal.
Loyalty Deals- Earn a deal or a discount based on checking in a certain number of times.
Charity Deals- Choose to donate to a cause when there is a check-in.
Each of these different types of deals have clear advantages to businesses. Deals is currently rolling out across the county and already big businesses have already sign up to offer deals including Gap, Chipotle, McDonalds and Starbucks.
You can read more here directly from Facebook about Deals. TechCrunch also had a pretty comprehensive post covering the Facebook announcement where they note that currently Facebook Deals will only be available to US businesses.  Facebook will also be offering the Deals service to users for free which will make it hard, if not impossible, for other geo-location services to try to charge businesses for offering deals to users.
I'll be keeping up on the best ways to use Facebook Places and Deals for local businesses, so be sure to drop me a line if you have any questions.