Pinterest has experienced phenomenal growth this year. With a mostly predominantly female user base much has been said about how if you market to women, and especially to moms, then you had better be on Pinterest. It is estimated that between 60 and 97% of the user base for Pinterest is female. Previously only available by invite, Pinterest has recently opened the network up to everyone.
Just a few of the signs that Pinterest is HOT:
What exactly is Pinterest?
Pinterest is a virtual pinboard where users create topic specific or general pinboards to group and share images or videos. Images and videos can be shared from other websites or uploaded from your computer. You can view and follow other users' boards or follow the user and all of their boards. You can also add other users to a board and give them the ability to contribute to special boards as a way to increase your reach and visibility. Images that are pinned from a website will be linked back to the original post or place they were pinned from. This makes Pinterest especially appealing for e-commerce sites or for any sites that sell things online. Home decoration, fashion, food and wedding planning seem to be particularly popular boards. Data also show that Tutorials/DIY guides see a 42% higher click through rate than other pin types.
Pinterest as a Marketing Tool
Multiple studies indicate that Pinterest can be a great source of referral traffic. However, this also means that you will now want to more thoughtfully consider the images you use on your blog or website and making them "pinnable" with good visual appeal. It can be a good idea to include several different images in blog post or on a web page to give visitors a variety of options to pin what appeals to them. Data also suggest pinned images are leading to purchases by users which makes this a social network that can easily be linked to increasing sales or for sales lead generation.
Pinterest contests are also growing in popularity. These are a great way to further engage your brand with followers in a social way. This article is a great overview of how some brands and companies have creatively used Pinterest for contests.
Pinterest Tips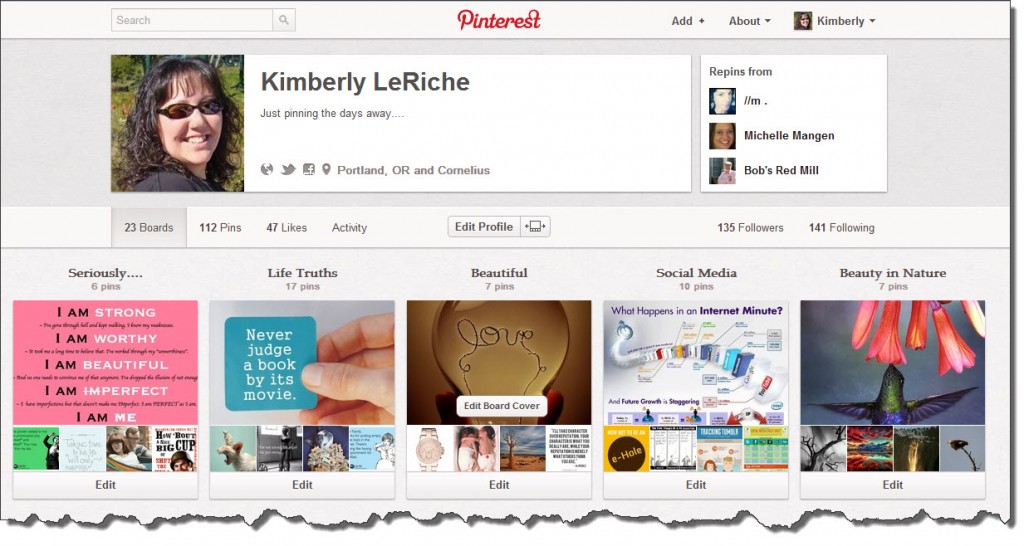 When you first set up your Pinterest account, be sure to add a profile picture (or a brand image) and add a short paragraph in the "About" section and add the URL to your website as well. You also have the option to link your Pinterest account to Twitter or your personal Facebook profile which gives you the option to cross post your pins to those networks as well.
Create boards and start pinning! Give your boards interesting and creative names to increase the likelihood that others will follow your boards or re-pin your content. Post a short (keyword rich) description in the box below the pin. If you are re-pinning someone else's pin, try to put in your own description rather than just re-pinning with their same description. Users are notified by email when someone has re-pinned one of their images so this can be a good way to connect with other users as well as find out what types of pins your followers like. You can also add a price to your pin by typing in $ with the price in the description. This can sometimes lead to your pin showing up in the Gifts section (for greater visibility). Other ways to engage on Pinterest are to "Like" other pins or to leave a comment on a pin. You can also "tag" other Pinterest users in your description as a way to network with other users. These all create another level of social engagement.
Pin items from a wide variety of places and pin items from your own site or blog, but be careful not to over-pin your own stuff.  Pinterest is for curating content not solely as a self promotion tool. Most  Pinterest users are turned off quite quickly by users who use the platform soley for self-promotion. Also, avoiding pinning an image to more than one board. Users who pin something and add it to three or four different boards just clog up their followers pin page with the same pin which can be annoying.
For your website or blog, be sure to add a "Pin It" button to make it easy for your readers or web visitors to easily pin your content.  Also, Pinterest provides you with the code to add to your site to help others find your profile and follow you.
Click on "Popular" to see what types of pins are currently popular or trending as a way to get some additional ideas of what to pin and how to create pinnable content for your website or blog.  Also, you can check to see what images and which users have been pinning content from your site by typing in http://pinterest.com/source/yoursitehere.com.
The Downside of Pinterest
All joking aside, survey data indicates that approximately 75% of people believe Pinterest is a huge time suck.  It seems as though people either really love and enjoy Pinterest or they just don't get it. Those who love it can easily find themselves pinning for hours or constantly on the look out for things to pin. As with any social network, you will need to figure out how to best manage the time you spend using Pinterest.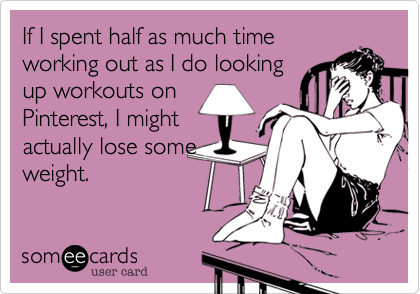 Just as with any other popular social network, spam can be an issue on Pinterest as well. People will pin an image to mislead people into clicking it to see the original post and it takes them to a spammy sales page that is completely unrelated to the original pinned image or it can be to an affiliate sales site and even worse yet it could be to a harmful site with malware or viruses. Pinterest does continue to work on this issue but as a fairly new network, they still have some work to do.
Recent data suggest that about 40% of marketers are not yet considering using Pinterest as a marketing tool. This is both good and bad. It's bad because they may be passing up a great opportunity to use an additional marketing  tool for their business or brand and because it shows that many are not quite taking Pinterest seriously. However, in my opinion this is also a good thing as it gives you time to get creative with how to use Pinterest for marketing and to grow a following for leads and referral traffic before it is overrun with marketers.
Some people have had concerns about the terms of use and potential copyright issues. This is something that Pinterest has worked and continues to work on.  Here you can read Pinterest's full copyright and trademark policy.
If you have been using Pinterest, please chime in and share your thoughts about this addictive network along with a link to your Pinterest profile so we can connect there as well! You can find me on Pinterest as The Kimberly.