al·ter·na·tive – /ôlˈtərnətiv/
Adjective (of one or more things) Available as another possibility.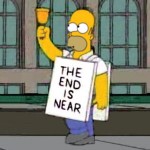 As you may have heard Google is getting rid of it's much loved, very convenient Reader. This move comes as Google tries to consolidate its services.  Google Reader will shut it's doors on July 1, 2013. Perhaps the petition to keep Google Reader alive will work …but in case it doesn't, please read on.
Everyone is writing about Google Reader Alternatives. I typed in Google Reader and it was the first option that came up.  In this post I will give a snapshot of a few alternatives that I've chosen: Old Reader, Feedly, Newsblur, Netvibes, and Pulse. In addition to looking at the overall usability of these tools, one of my primary objectives is to see how easy it is to share content from these tools to social networks.
So, getting familiar with these alternatives now could be key if you want to avoid a disruption of your daily feed reading.  And…if you read your RSS feeds in more than one place (that is, if you want to read them at home, at work, or on different devices), you'll want to try a web-based or cloud RSS reader, like the ones listed below and similar to what Google Reader is now.
Old Reader
The Old Reader is a great alternative. Its design is based on Google Reader's prior design, so it's a good option to check out if you're looking for something familiar. Word of caution: there might be a wait time to import your file from Google Takeout into this service when you sign up. Due to the wait time, I wasn't able to see this one in action and to gauge how easily it is to share from the reader (there are 8877 users ahead of me).
Feedly
Feedly is a Google Chrome extension that shows the latest updates from feeds, blogs, and sites like Facebook and Twitter in a magazine-like view. Currently, it automatically connects with your Google Reader and imports those feeds directly. According to their blog, they are working on new features and updates everyday to keep up with the recent influx of users looking to switch from Google Reader.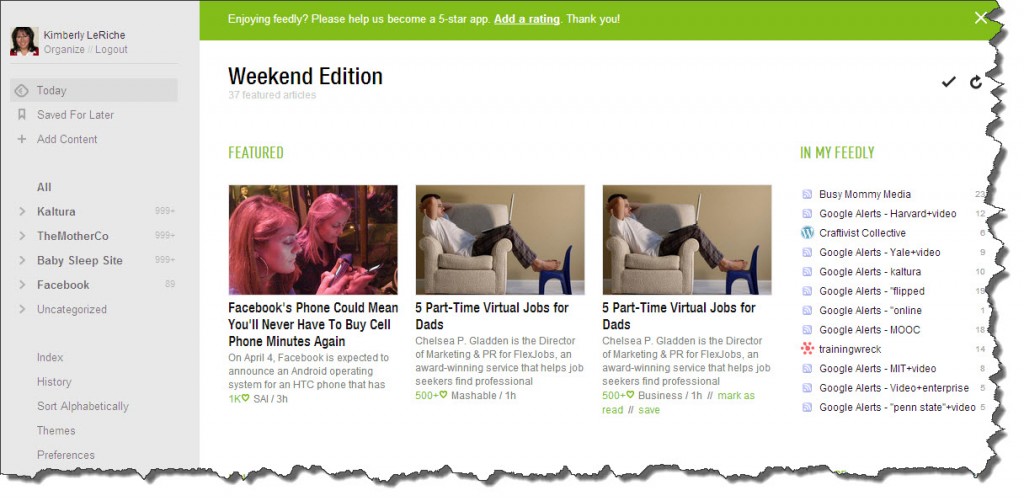 It takes a little time to set up Feedly to do exactly what you want it to do, but you'll probably be happy with the end result. It's more of a visual/magazine style reader so that's something to keep in mind as a difference from the Google Reader you're used to. There are some tips on the Feedly Blog for how to make your Feedly look more functional and less visual. Feedly is also available as an extension for other browsers as well as available as in an app in the Apple Store and as an Android App. Sharing to social networks is easy from Feedly.
Newsblur
Meet Newsblur.  Migrating from Google Reader is easy with the click of a button.  You create an account with them, subscribe to your favorite sites, and can read them on any computer.  Unfortunately, it does look like NewsBlur has suspended free accounts for the time being. When you go to sign up, then it will give you the message letting you know Free accounts have been suspended and it will ask you to sign up for a paid account. I didn't want to do this at the time but when I closed out the window and went back to it later, I suddenly had the option of using a Free account and importing my Google Reader feeds. The downside is that with a free account you can only track 64 feeds. So, they really prefer you to go with a paid account. Not sure if the "leaving and return later" trick will work for everyone but you might want to give it a try to gain access the Free account if you're interested in checking it out.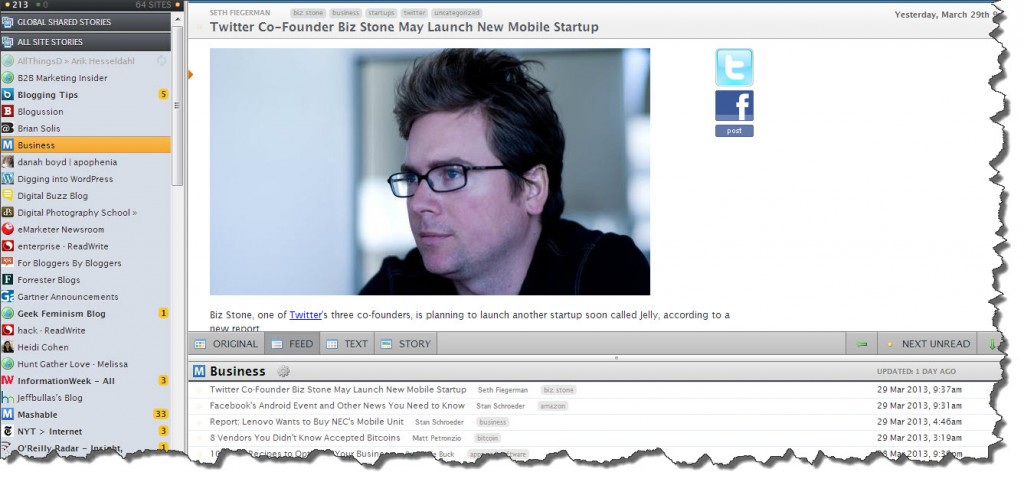 NetVibes
Netvibes is the one so far that I've found to be more along the lines of what I'm looking for visually. It offers an import option which makes switching from Google Reader easy. It also offers a widget type view for a more visual way to look at your feeds but it's the a reader view which I prefer – with three options of a list view, an expanded view and a mosaic view (so you can see images from the article.) You can also create Dashboards for different topics. I don't like that it doesn't easily include social sharing options like some of the others do, so this means there are extra steps involved in sharing these articles on social networks. Although in widget view, you can view the website within the Netvibes window where you might be able to find that site's social sharing buttons. But again, this is an extra step you'll have to take to share articles from your feed to social networks.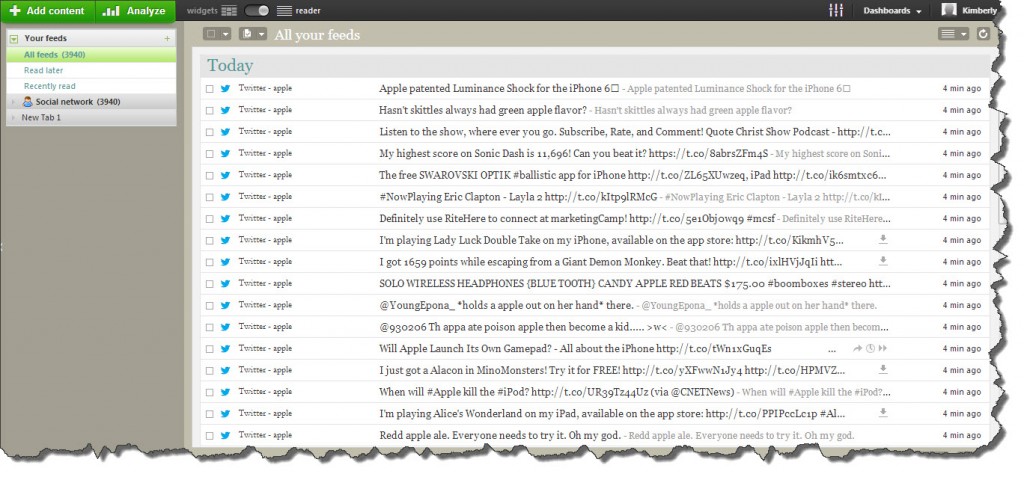 Pulse
Pulse is less of an RSS reader and more of a news curation tool. It determines what might be of interest to you and places those in your dashboard. It's also based on a more visual, tiled look. There is the option to import RSS feeds but apparently that's only available via mobile and not on the web which is a big drawback in my opinion. It's useful though if you are wanting an easy way to find articles and news are trending. And, they make it easy to share the content to your social networks. Mobile apps are also available.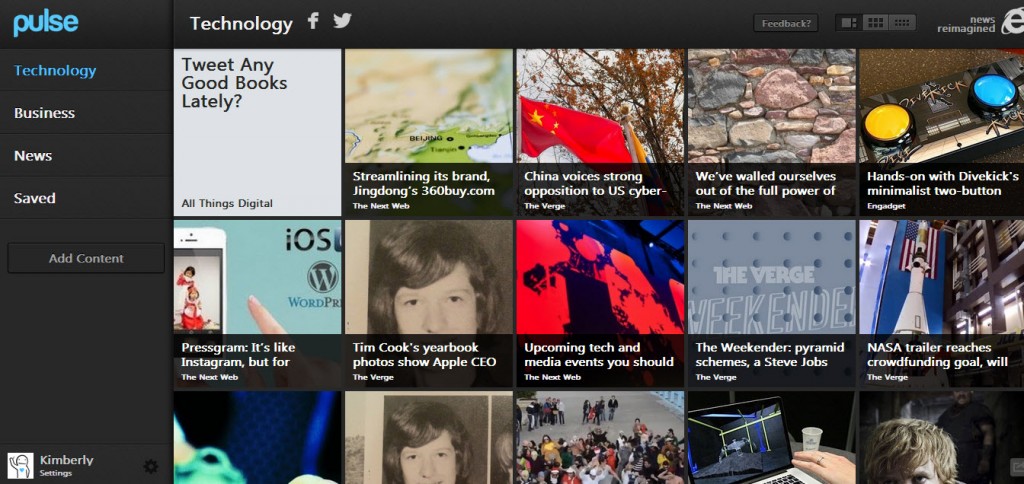 UPDATE 4/11/2013 – LinkedIn Acquires Pulse
Paid Option – SproutSocial
One last option that appeals to me but there is a cost involved is SproutSocial. I already have a paid account so this makes it a realistic option for me. They do offer a free 30 Day trial though if you want to give it a spin. Along with many other great features as a social networks management tool, SproutSocial lets you easily import your Google Reader feeds and show them to you in a visual style list. SproutSocial makes it easy to share items from your Reader with the social networks that you have included in your account.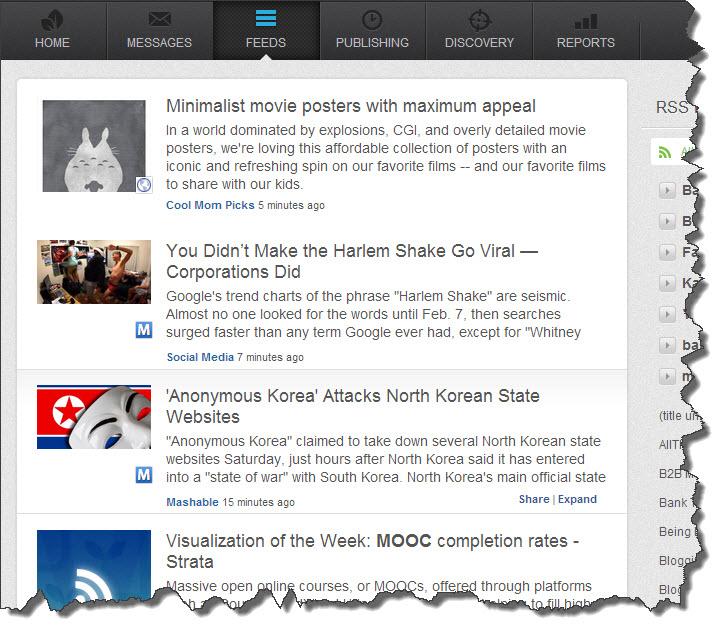 Sign up for a free 30 day trial of Sprout Social.
(affiliate link)
If you have found another suitable Google Reader alternative, please let us know!