With the decline of organic reach and visibility of Facebook page posts, many businesses and brands are seeking other ways to reach their target audience, to engage with their customers and to create interactive communities with the loyal fans who love them. It's time to go beyond the Facebook page! In this article, we'll take a look a three creative ways you can create an engaged community on Facebook that will help you reach more of your target audience.
1. Facebook Groups
Facebook groups have been quietly growing over the past few years and have several advantages over a Facebook page. Facebook groups are usually focused on a specific interest or goal but they are also used by brands to give customers or clients "special access" to information, content and feedback that isn't readily available on their public page. What's appealing about a Facebook group is the level of control over who can access the content or see what's being shared within the group. Groups can be both private and public (also known as Open or Closed.) For brands or businesses, the best way to use groups as a marketing tool is to create a group of your own rather than joining other groups. Unfortunately, you cannot create a group as a brand or business. You can only create a group using your personal Facebook profile. For some businesses and brands, this can be problematic if they prefer to keep their business personality separate from their personal.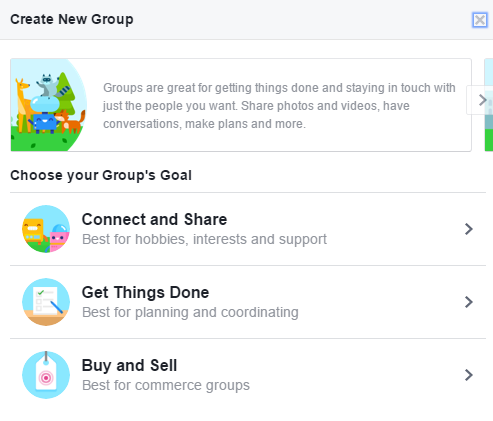 There are some key differences between Facebook Groups and Facebook Pages. Facebook Groups are not set up for promotional purposes like Pages. A group shouldn't be set up in your business name and it shouldn't really be about your business. It should be set up as a safe place for your audience can feel safe and comfortable to share, talk, and ask questions about a specific topic or interest. Think about the topics or interests that your audience shares with your business services or products. For example, if you offer products for new parents, then you might want to start a group for new parents to talk about being a new parent and parenting.
You can use the group to start discussions that help showcase your expertise and experience. You'll want to also share items of interest to the group that are non-promotional and will help keep the group lively with discussion and engagement.
2. Facebook Live Broadcasts
Since the launch of Facebook Live last year, more and more brands are finding innovative ways to use it to connect live with their audience. Facebook Live video allows you to speak directly to your audience and they can ask questions and engage in real time while you are broadcasting. Facebook Live video broadcasts are a fun way to introduce new products or talk about new services and to answer questions from your audience. Not only does your audience get to see and hear you but it gives them a way to interact with you.
You can use Facebook Live from your Facebook page, your personal profile or your Facebook Group. For the best brand visibility, you'll probably want to broadcast using your Facebook page and to reach the widest audience. You can schedule a few posts prior to your broadcast to let your fans know when you'll be broadcasting and what you'll be talking about. Or you can just let them know to tune in for a big announcement (in the case of a new product or service launch.) Some brands use Facebook Live to also do live giveaways as a way to encourage people to join in and interact.

Create a plan for what you want to cover during your broadcast and be sure to leave some time at the end for questions and answers. Once your broadcast is over, it will be available through your page or groups where you broadcast it so that anyone can come and watch it at anytime. This way you can share it with your community even after it's over for those that couldn't join in while you were live. People can still post comments or questions on a broadcast that has ended, so be sure to have your notifications on for those and answer them in a timely manner to keep the conversation and engagement going.
3. Facebook Ads
While you might only think of Facebook ads for selling products or services, you can also use them to gain new members for your Facebook community. You cannot set up an ad using a Facebook Group, but you can set up an ad to promote a post on your Facebook page that is an invitation to join your Facebook Group or a post with the announcement for your Facebook Live broadcast.

The key to running a successful Facebook ad campaign to grow your community will be to target the right audience. This can be done via your Facebook Ad Manager's Detailed Targeting section when setting up your Ad Set. You can also choose other brands or businesses that share an audience with you and target their fans. You should try to run your ads for a least a week to give the ad time to show to the audiences that you are trying to target.
If you'd like help setting up a Facebook ad campaign to build your Facebook community, you might want to check out my Facebook Ad packages.
Conclusion
Creating an engaged and interactive community on Facebook is important for a few reasons. First, it increases your reach and visibility with your target audience. It also gives you the opportunity to reach a group of loyal fans who can either become new customers or who will become repeat customers and tell their friends about you. An engaged community on Facebook also helps to cement your position in your industry and position you or your business as an expert in your niche.
Want help building your Facebook community?
I can help! Contact me today and let's chat about how I can help you increase your reach, visibility and engagement on Facebook.