As of Jaunary 1, 2015, Pinterest opened up promoted pins to all advertisers. After several months of beta testing, they found that promoted pins performed just as well, and sometimes better, as organic pins. They also found that, so far, pinners don't seem to mind seeing promoted pins in their pinstream.
The Details
Promoted pins are considered an ad on Pinterest and you're able to set up different ad campaigns. For each campaign, you can select target audiences based on location (currently only in the U.S), interests, demographics and devices. Pinterest promoted pins work on a CPC basis (cost per click) with a minimum bid of $0.05. This means that you pay only when someone clicks through a pin to your website.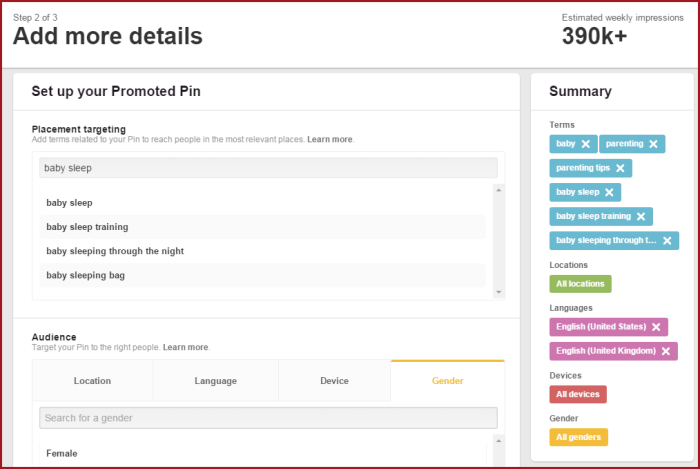 Pinterest has a few guidelines when it comes to promoted pins. Primarily, that you want to be authentic. You want your pin to blend in and be of interest to your audience. This means that it should NOT look like a traditional ad. Stay away from calls-to-action, pricing or blatant promotional content in your pin. Be sure to include dates with your pin if it is for a giveaway or other promotion. And, be sure to use an engaging image. Add in useful terms for your pin and double check the link where users will go when the click on the pin. Promoted pins should includes images that make people want to click or re-pin. Your promoted pins need to lead to a relevant landing page with no sign-up request. Pinterest also has some more specific advertising rules that you'll want to read over as well.
Currently, Pinterest says they are working to approved promoted pins as soon as possible but they recommend that you submit your ad at least 7 days prior to when you want to promote it to ensure that it's approved. Within the campaign set-up, you will have the option to set your CPC, the duration of your campaign and your daily budget. You can log in and edit or pause your campaign at any time.

Why Use Promoted Pins
Promoted pins can be used for content that you want to distribute to a wider audience than just those who follow you Pinterest. It's also a good way to reach new followers or other pinners who are interested in your content. Promoted pins can also be a good way to increase visibility and reach for giveaways or promotions. Keeping an eye on your promoted pin analytics will be a good way to determine what type of content works best for your target audience. Promoted pins could work well for seasonal content and other time sensitive material that you want to have increased attention.
Getting Started
To get started, log into your Pinterest account and go here: https://ads.pinterest.com/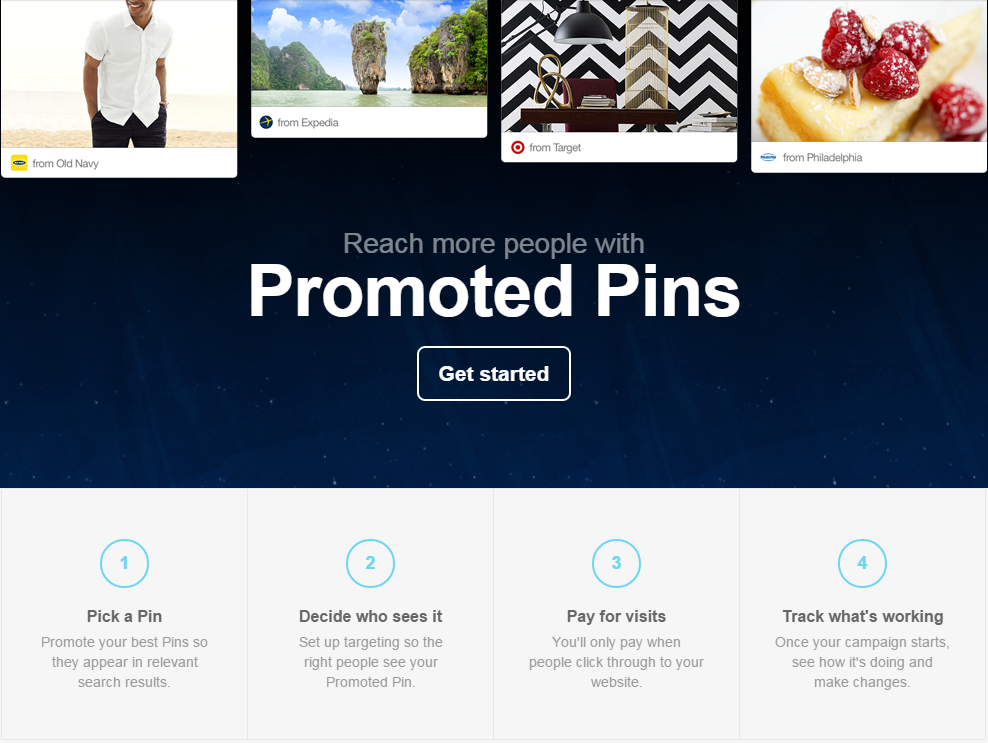 Click on the "Get Started" button and then go through and select a pin to promote. You can promote one or your own pins or a pin from another site. If you don't see the pin you want to promote you can do a search for it using the search bar at the top of the page. Once you've found the pin you want to promote, hover over it and then click "Promote."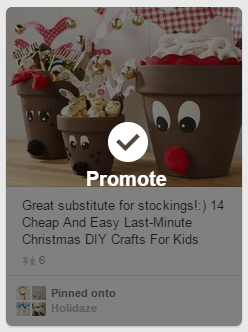 After you've selected your pin, then you'll do the rest of setting up your ad on the next screen. This is were you'll input keywords or interests that will determine where you pin might show up in the search results. You'll also specify your audience here by selecting location, gender, language, etc. Input what you are willing to pay for each click as well as the duration of your ad campaign and your daily budget. It will like take a bit of testing to figure out what the best Cost Per Click is for your pins. Like other ad platforms, it's generally a bidding process and the more you are willing to pay per click, the more likely it is that your ad will show up in search results, depending on how much competition there is for your target audience. You should also keep in mind that there's a good chance you won't be charged the full amount that you're willing to pay for cost per click. You might put in that you'll pay $.50 per click but because competition is low (and because Pinterest ads are new), then you might only pay $.10 per click.
I recommend that you also check your Pinterest Analytics to see which of your pins have performed the best organically to get a good idea of which ones might perform well as promoted pins.
The Bottom Line
Pinterest promoted pins are new which means there is still quite a bit to learn about how to best use them or about what types of pins perform well. I imagine that Pinterest will continue to refine the ad platform as time goes on and as we gather more data about how pinners feel and react to promoted pins. I would definitely recommend that you consider checking out the Pinterest ad platform for your business or brand if you feel your target market is participating on Pinterest. Pinterest is still a relatively new social network and it's user base continues to evolve and change over time so don't rule out that your target customer isn't using Pinterest until you've done a little research on it.